Danish World Music and how to survive in Greenland without speaking Greenlandic.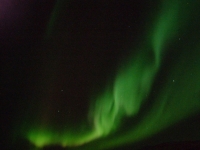 This is Grenaa. People don't dance here!
We hear snippets from the first World Music Festival in Grenaa where the idea was to celebrate the diverse musical talents now to be found within Denmark's borders. The quote is from the Katamanto Highlife Orchestra set. We also hear a snippet of the Klezmer music of Mames Babegenush.
The one you throw stones at.
This is the Greenlandic way of referring to the ptarmigan bird. So how realistic is it that someone working in Greenland will learn Greenlandic? Jens Nyeland worked for three years as a scientific advisor regarding the sustainable use of seabirds and talks about the difficulties of the Greenlandic language.
You couldn't go anywhere.
Regitze Nyeland describing the effect of the Greenlandic winters which she otherwise
found very easy to live with. How did she fare with the Greenlandic language in her
job dealing with youth problems in Greenland's capital, Nuuk?
Picture credit: The Northern Lights (Aurora Borealis) in Greenland by Jens Nyeland
The Host of this show is: Anne Fox