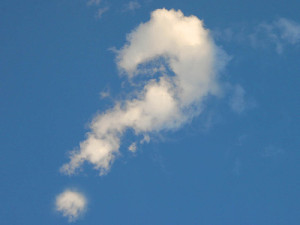 Welcome and shanah tovah.  Why shanah tovah? Because that is the Hebrew New Year greeting and it was the Israeli new year the day before this podcast came out. I learned this from Marion Burgheimer, an Israeli cross cultural trainer I spoke with about the most popular links on our Absolutely Intercultural Facebook Page. She also told me that Shanah Tova is a wish for a good new year rather a happy new year, as a good year makes you happy. Welcome to Christian Garry Kansil who is the latest person to like our Facebook Page. I wonder if you're finding the links we post there of interest Christian? In this show I talked to two cross cultural trainers to find out more about their work and how they got into it.
absolutely curious
How do you become a cross cultural trainer? I'm sure that this isn't something you told your careers adviser at school that you wanted to be when you grew up. So that was how I started my conversation with both of our guests in this show. First I asked Marion Burgheimer about how she came to be a crosscultural trainer.
absolutely linked
Then I spoke to Marion about some of the links which have proved popular on our facebook page and what made them popular. If you know of any interesting links which we should share on our Facebook Page then leave us a comment there or use our blog or send us an email. Also use the blog to contact us if you know of someone we should be speaking to for a future podcast.
absolutely lost
So now to our second cross cultural trainer, Margarita Gokun Silver, founder of the Global Coach Center; same questions, what's your background and how come you became a cross cultural trainer and we'll see that Margarita's strength lies in helping the spouses of people who get stationed abroad and who are absolutely lost in some cases. Here are some of the things they say:
You can find more Global Coach Centre videos on their YouTube channel. In fact I spoke at greater length to Margarita and I hope that I can bring you a bit more of that conversation in later shows. But in the mean time search this post for all the links we talked about and the videos that Margarita has produced, visit us on Facebook Page or see the show on our YouTube channel.
Our next show will be coming to you from Dr. Laurent Borgmann on October 4th so stay tuned!
The host of this show is: Anne Fox
Editor: Younes Jaber
Image: Dennis Hill, FontPlay.com at Flickr
Download
Podcast-Feed