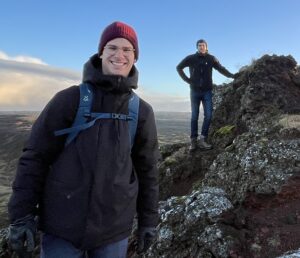 Welcome to Show 287 of Absolutely Intercultural coming to you from Denmark. My name's Anne Fox and Denmark is where I have lived for almost thirty years. It is a small country of nearly 6 million people which has 8 universities. Compared to Germany's 380, or the USA's seemingly too many to count, but let's settle for over 4000, eight Danish universities seems like a very small pool to choose from. So why would anybody come to Denmark for their university studies? This is what we're going to find out in this show. We will be talking to Peter from South Africa who has a complex family history that is reflected in the languages spoken at home and Úlfar from Iceland who's noticed something about Denmark.
absolutely uncertain
In our first segment, "absolutely uncertain", let's find out how Peter came to Denmark, to study in Danish, after being brought up in South Africa and having done his schooling in German.
absolutely engineered
In our next segment, "absolutely engineered", let's hear from Úlfar, an Icelander who had limited options for his Masters back in Iceland and chose Denmark.
So maybe small is beautiful after all. Family history and colonial ties seem to count greatly in addition to any global ranking that Danish universities may also have. Just for information DTU is number 165 globally or, when we're talking specifically engineering and technology, 3rd after Stanford and MIT, while Copenhagen is 107 globally. And Iceland has seven universities which is only one less than Denmark, but it's something to do with size! What about you? Did you ever consider studying in a small country like Denmark? Get in touch, feel free to share your unique story with us here on the podcast.
Write a comment or mail us, we could do a follow-up interview with you in one of our next shows. On our web page, absolutely-intercultural.com, you can get more information about this show and previous episodes, and you can leave comments. And if you enjoyed the show, please like us on Facebook too.   
By the way, did you know we are also on iTunes or Apple Podcasts? You can subscribe to us there for free and give us a rating and a comment. 
Our next show will be coming to you on 3 November from Laurent Borgmann in Germany.
Until then, stay tuned!
The host of this show is: Anne Fox
Download
Podcast-Feed
Apple podcasts