Borrowed Identities – European Student Now! Project meeting on Achill Island and in Dublin, Ireland.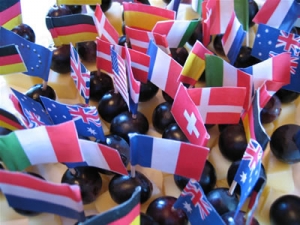 Welcome to episode 25 our Silver Jubilee of absolutely intercultural, which is absolutely Irish!
Laurent and I have just been on an excursion to Achill Island and Dublin in Ireland within the framework of the EU funded Intensive Programm "Borrowed Identities – European Student" now, and in this episode you will hear many different voices from many nationalities, but one in particular – Agnes Dus, a student from Corvinus University Budapest in Hungary has helped us a great deal with doing interviews and creating the concept for this episode, so thank you very much Agnes.
As a preparation for the proposed "European Year of Intercultural Dialogue 2008" our project "Borrowed Identity" aims at creating an intercultural learning environment based on virtual and real mobility. The project is targeted at Business, Technical and Humanities students in Germany, Sweden, Spain, UK and Hungary and focuses on combining computer-mediated academic work, face-to-face meetings and intercultural communication.
This combination provided students with a new perspective of their own cultural identity as students, and the cultural identity of their foreign fellow students and hosts in Ireland.
So a short while ago 40 people from 5 different countries and actually 8 different nationalities met for 12 days in Ireland, to work together on a variety of academic workshops and to attend several intercultural lectures.

Now, to give you an idea of what the personal aims of the participating coordinators and teachers were we have asked some of them what they wanted to get out of the project, personally and for their professional life, and if their expectations were actually fulfilled.
We have also interviewed old friends like Sean and Margaret Cannon, who are a part of our "European project family" for more than 10 years now. And we have met new friends like Stephen Manning, who has just recently settled down on Achill after quite an exciting period of his life.
This episode is also a part of the general documentation of our whole project, and you can also follow a day-by-day travelogue of the excursion, written by the students themselves. Check it out – they have done a really good job!
A lot has happened during our time in Ireland, and we hope to give you a good impression of what our students have achieved, what the whole project is all about and what a good time we had on Achill Island.
The next show will be coming to you on the 9th of March from Anne Fox in Denmark.
So long…stay tuned!
The Host of this show is: Dr. Laurent Borgmann
Edited and co-hosted by: Karsten Kneese