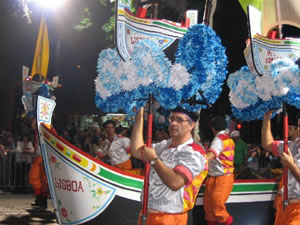 This episode comes from Portugal where we begin with a colourful street parade which includes a mass wedding.
We visit ELO SOCIAL, a place where disabled adults can work, rest and play and talk to Luisa, one of the staff..
The German station has noticed the many German flags flying on the occasion of the World Cup and ask themselves about the significance of national flags in different cultures.
Flags were also prominent in Portugal and we hear from Cristina Costa, a teacher of English at the Naval Academy of Lisbon about how she feels seeing all these flags.
My visit to Portugal was to work on the idea of how mentoring could help disabled people into the workplace. I talked to Nikolaos Floratos about the attitude of Greek employers to this idea as we walked around the palace at Sintra.
Next I talked to Vladimir Plesnik of Reintegra in the Czech Republic who had a good reason to welcome the idea of mentoring in his country.
The music was provided by Panteras Negras, the ELO SOCIAL rock band.
The Host of this show is: Anne Fox