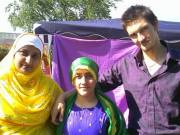 In this show we go behind the scenes at Grenaa Global Music Festival and ask what effect, if any, such an event can have on intercultural understanding.
Absolutely Cultural
The Global Music Festival is not just about music but includes many other inter-cultural elements at a free festival which takes place in the centre of Grenaa town.
'I saw so many happy faces.'
One of the prime movers behind the idea which started last year is Moussa Diallo, originally from Mali and we hear from him and another expatriate Butch Lacy from the USA about the concepts behind the event.If you go to their web sites you will see that music is much more than just music for these two men but also a means for achieving different forms of heightened communication.
The music used in the podcast is part of Moussa Diallo's repertoire and you can hear much more on his website.
'I have lived all over the world.'
Josephine is one of the students studying for her International Baccalaureate at Grenaa Gymnasium and listed for me all the places she had lived in to date. The IB is an international education which takes place in English and which therefore attracts many multi-cultural students. The course is not just academic but also includes artistic and community service elements and this is why I found many IB students as I was wandering round the festival.
I met with Rikke from Denmark and Julia from Poland who had been reading African creation myth stories to children, Mahnoor from Pakistan who had taught Nikolaj from Russia to paint henna on hands and Neghat from Afghanistan who had tried and failed to make and fly kites. Josephine, a Dane, had been face painting children according to the patterns found on traditional masks around the world.
The show ends with an explanation of what culture means to Butch Lacy.
The next show will be coming out on the 5th of October and will be coming to you from Germany.
The Host of this show is: Anne Fox