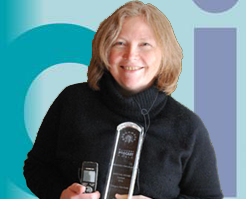 The picture is of me holding our European Podcast Award, beautiful but heavy, together with the Olympus DM 55o Digital Voice Recorder which I used to record this show. OK I promise that this is the last time I'll mention it! Thanks for the votes and thanks to the whole Absolutely Intercultural team which keeps the whole thing going.
absolutely lost
Tingting Yang is a Chinese teacher of English and corporate communication advisor. There was lots to talk about but having done a Masters in Intercultural Communication and working as an intercultural trainer with Verge Cross-cultural Communication. There was one aspect of Chinese policy which Tingting was convinced has had a huge effect on Chinese culture and that is the one-child policy.
absolutely 'merican
Now I want to introduce you to Vicki Hollett, author of several successful English language learning books. Vicki is British but moved to the US about ten years ago. Her book Business Objectives, had been very successful in its original British English version so her publisher suggested that they make an American English version. We hear about positive and negative politeness and indirectness as used in Britain and America. To test our understanding of indirect English, Vicki produced a dialogue in which two people discuss what to do about a project which is behind schedule. Is the outcome clear?
And if you need a bit of structured listening or writing practice then you can find several different types of dictation exercises based on a snippet of that interview at the Listen and Write website.
Our next show will be coming to you from Dr. Laurent Borgmann in Germany on18th March
So long … stay tuned!
The host of this show is Anne Fox : Editor: Markus Scherer
Download

Podcast-Feed

iTunes-Abo