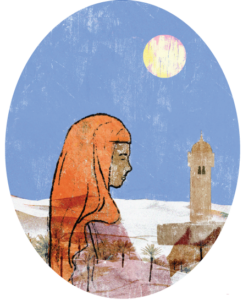 Welcome to show 289 of Absolutely Intercultural.
Did you know that the richest man who ever lived was an African from Mali in the fourteenth century whose wealth exceeded that of Jeff Bezos and Bill Gates put together?
Did you know that the first university in the world was not in Milan, Italy but in Morocco started by a female refugee, Fatima Al-Fihri?
In this show we're going to find out more about a publishing company called Our Story aimed at young children and their teachers, and why this might help intercultural understanding.
My name's Anne Fox and I'm based in Denmark and for this show I'm working with Mariam in Germany.
In this show we are going to meet Fahad Siddiqui, a Londoner, living in Brazil, who thinks that we should all know more these people who have faded from history.
absolutely historical
Let's go absolutely historical and meet Fahad Siddiqui who created the Our Story company to share these stories with children.
absolutely multicultural
As well as being interesting in their own right, one of the aims of the Our Story materials is to introduce children to different cultures so let's find out more about that and go absolutely multicultural with Mariam.
absolutely charitable
One of the features of the Our Story books is that every time you buy one of the books, the company makes a donation to the charity, CAMFED, which supports the education of girls in a selection of African countries. Let's go absolutely charitable to find out how and why.
I loved finding out more about the many facets of the Our Story books and I know that our conversation left Mariam thinking hard about her home country of Georgia and whether there would be a candidate for one of the books from her cultural history. And maybe you know of one from your culture too?
Share your story with us via comment or email, and you might feature in one of our upcoming shows. For more information and previous episodes, visit our website at absolutely-intercultural.com. And if you enjoyed the show, please like us on Facebook too. 
By the way, did you know we are also on iTunes or Apple Podcasts? You can subscribe to us there for free and give us a rating and a comment.
Our next show will be coming to you on 5th January from Laurent Borgmann in Germany
Until then – stay tuned!
The host of this show is: Anne Fox
Co-host: Mariam Bilge
Download
Podcast-Feed
Apple podcasts