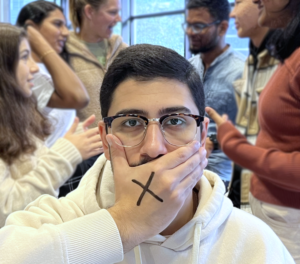 Hello and welcome to show 280 of our podcast "Absolutely Intercultural". Today, we are going to talk about the culture of "Political Correctness". Since the 1980s many people in public life have used politically correct language either to avoid discrimination and to treat others respectfully or because they are worried about being judged by more politically correct people. The original idea of the concept was to try to make the world less racist, less homophobic, less sexist, in short into a better place. But will this cultural change really ever achieve worldwide equality of genders and races? Or will the PC language only change the way we speak but not the way we really think or behave? Many critics see pc language as censorship and draw parallels to George Orwell's utopian idea of "Newspeak" in his novel Nineteen Eighty-Four, where the totalitarian regime decides to reduce the language to the point that ideas which are not desirable can no longer be expressed.
From our guests, we will hear how they see and experience this new culture of political correctness, which is now gaining more and more influence on our vocabulary, our minds, and our lives.
absolutely filtered
In our first story, "absolutely filtered", we will listen to Faisal from Iraq who is currently studying in Germany. Faisal tells us that political correctness in Europe makes him feel a little uncomfortable in communication. He compares the PC and woke languages to having a filter on everyone's mouth.
absolutely responsible

In our second story, "absolutely responsible", we will listen to Waqar from Pakistan who owns a plastic free shop in Germany – "Unpacked Remagen". With his business, tries to introduce his customers to environmental awareness, such as climate change. For Waqar, political correctness concerns more than just the language we use. It is about taking responsibility and real action.
absolutely open-minded

In our last story "absolutely open-minded", we will listen to Niklas from Germany. For Niklas, being politically correct depends on the situation he is in. At work, he will be politically correct. However, when hanging out with his friends, Niklas can allow himself to make some politically incorrect jokes to bond with them.
What about you? What do you think about political correctness? Does it come to you easily to be politically correct in every aspect of your life? And do you think with the help PC language we can really reduce discrimination and reach equality? Or do you struggle with the new language as if it censored and restricted your expression? Get in touch with us, and feel free to share your unique story with us here on this podcast.
Write a comment or mail us, we could do a follow-up interview with you in one of our next shows. On our web page, absolutely-intercultural.com, you can get more information about this show and previous episodes, and you can leave comments. And if you enjoyed the show, please like us on Facebook too. 
By the way, did you know we are also on iTunes or Apple Podcasts? You can subscribe to us there for free and give us a rating and a comment.
Our next show will be coming to you on 2 December.
Until then – rethink your own political correctness –
Bleiben Sie absolut interkulturell!
The host of this show is: Dr. Laurent Borgmann
Chief Editor: Natalia Obikhod
Assistant Editors: Kim Kyeongjin, Faisal Faisal
Download
Podcast-Feed
Apple podcasts