Myspace Layouts
In this show we'll be looking mostly at languages in the US and how that helps or hinders intercultural understanding.
absolutely Francophone
We'll start with Louis Michot, one of the prime movers behind the Cajun Punk band the Lost Bayou Ramblers. In show 144 we heard about their music and what it meant to the band members as well as its cultural roots. Another topic that we talked a great deal about was the status of the French language in Louisiana. I made a trip to Louisiana many years ago and I have to say that the language was not really evident but when I talked to Louis I discovered that this was because it was mostly hidden. So the question is why would anyone in Louisiana want to hide the fact that they can speak French? And do people in Louisiana still learn French? Is it absolutely francophone?
absolutely informed
So there's a lot of sensitive history behind the survival of the French language in that part of the United States. Then a few weeks ago, my eyes and ears in Florida, Kole Odutola alerted me to a Communiqué sent out by the Southeast African Languages and Literatures Forum on October 2nd, which read:
We, the members of Southeast African Languages and Literatures Forum (SEALLF) at the second annual conference of the forum held at the Chapel Hill Campus of the University of North Carolina, acknowledge that in view of the internationalization of the curriculum at many American colleges and universities, there is the need to increase the number of American undergraduate and graduate students engaged in the study of critical languages of Africa.
In the wake of the 9/11 attacks many US universities beefed up their foreign language requirements in recognition of the fact that to understand another culture it helps greatly if you know a bit of the language. So here was a Communiqué suggesting that the foreign language requirement should more often lead to the learning of an African language such as Yoruba. But why? To find out more I spoke to Dr Désiré Baloubi of Shaw University in North Carolina, the Chair of the Forum behind the Communiqué. And during the course of our conversation I also learned a new acronym, HBCU, which stands for Historically Black Colleges and Universities. So why does an English teacher start a campaign to promote the learning of African languages?
absolutely illegal
The issue of language just doesn't go away and after finding out how and why Louis Michot learned French, I spoke to his father Tommy Michot to find out more about attitudes to the French language in the recent past and discovered that at one point it was absolutely illegal! We'll start by hearing as Tommy Michot sings in French a snippet of  La Valse de la Meche Perdue with his band Les Frères Michot.
Thanks to all those who took part and remember that if you've got a good idea for a show then get in touch and we'll see if we can include it. We're always on the look out for interesting people and ideas. Don't forget to take a look at our webiste if you want to follow up on some of the people or issues we've looked at in this show. You're welcome to leave us a comment about what you thought, a question or a suggestion.
Thanks for your support which got us all the way to a European Podcast Award last year. The nominations are open for this year's competition and as part of the PR around the award I was interviewed about this podcast and what it meant to win the award. You'll find a link to that podcast here.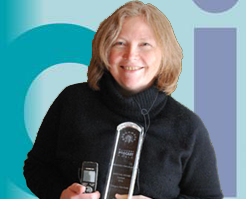 Well it's been a busy few weeks in which amongst other things I took part in the Managing Cultural Diversity seminar held every year at the Rhein Ahr campus. And this year there are pictures so here is a link to the Facebook Album. And as if this wasn't enough, my co-host Laurent Borgmann is once again leaving for Australia for a few months. So in order to make things more manageable we have decided to go monthly. So watch out for the next show which will be coming to you from Down Under!
Our next show will be coming to you from Dr. Laurent Borgmann in Australia
The host of this show is: Anne Fox