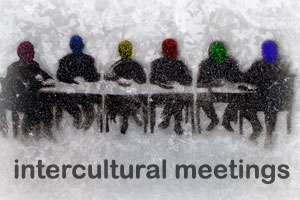 Today our topic is about intercultural meetings and I have a co-host, Lucy, from Australia. Maybe some of you remember her from one of our last shows, in which I interviewed her about her first impressions of Europe. She is doing an internship at Rhein Ahr Campus in Remagen and has agreed to help our editor Dino and me with this episode.
absolutely adversarial
Do you often take part in meetings? Do you like meetings or do you think they are a waste of time? Have you ever taken part in an international meeting, with participants from all over the world? If you have and if you had no problems, congratulations – you are perhaps a natural talent? For those of you who never had the chance to participate in such a meeting, let me tell you, it can be full of traps and dangers.  Imagine a room with people from 6 or 7 different countries, that means 6 or 7 different cultures and different working habits. Now you can imagine that such a meeting can be a challenge for all participants. At a round table discussion Lucy, Dino and I discussed some topics relating to taking care and being aware of different attitudes in meetings.
absolutely international
Try to remember meetings in your own culture. What is the predominant style for finding the truth or for taking a difficult decision? Do participants seem to "fight each other" with words and arguments like lawyers in an adversarial system or are you used to the consensual approach which concentrates more on the common ground between different opinions and not so much on the differences?
Let us include two more cultures in this. Nicole is from Austria and Thomas from the Czech Republic. They shared with me their experiences of meetings. Sometimes you have to spend all day in project meetings with your colleagues, and after the meetings you may want to be on your own.
absolutely well prepared
Now for the second part of the round table. Controversies within a meeting are discussed as well as which document is needed, what preparation needs to be done and what the perfect duration of a meeting is. Also, stay tuned to find out how  Lucy picked on a poor German girl during one of my meetings… If you only remember one thing from this podcast let it be this piece of advice – make sure you are mentioned in the minutes after a meeting, otherwise it's like you were never there!
Our next show will be coming to you from Anne Fox in Denmark on 12. November
Until then –
Bleiben Sie absolut interkulturell!
The host of this show is: Dr. Laurent Borgmann
Editor: Dino Nogarole