How to prepare yourself for a stay abroad // multilingualism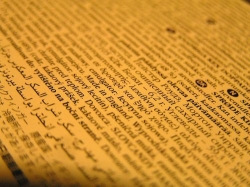 absolutely abroad
What can you do to prepare yourself for a semester or a stay abroad? Is reading up on the country you're planning to go to or getting information from the Internet enough? Ariane Curdy, an intercultural trainer and teacher, gives us the answer.
And if you're interested in learning more about how to prepare yourself, or your students, for a stay abroad, then you might like to know more about a European project called LIPS. LIPS stands for Linguistic and Intercultural Preparation of Students for the workplace and the aim of the project is to identify key situations in collaboration with potential employers and students and develop an innovative media-based learning community. You can find more information about LIPS at www.eu-lips.de
absolutely bilingual
What is it like to raise four children bilingually? Elisabeth is from Austria, but followed her husband 33 years ago to England. The children have been speaking both, German and English at home, and we also asked her son Thomas, what it was like for him to grow up with two languages at the same time.
absolutely endangered
Christina Cunningham talks about how the working language of the Commission has changed since the last enlargements of the Union, and what is being done to give the less spoken languages, like Danish or Lithuanian for example, more visibility and a stronger impact in the daily work of the Commission.
The next show will be coming to you on the 9th of February from Anne Fox in Denmark.
So long…stay tuned!
The Host of this show is: Dr. Laurent Borgmann
Edited and co-hosted by: Karsten Kneese