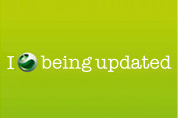 absolutely updated:
Together with Karsten Kneese and Fernando Reyero Noya, we continue to explore Geert Hofstede's concept of Culture as the Software of the Mind. We discuss the aspect of cultural updates and how people need to adapt to new rules and behaviours due to changes in our society. Often they are brought about by changes in the law where as a result everybody around us starts behaving differently – for example after the smoking ban in public places. In fact, this update goes even further and there is a new word in the English language: "smirting", which is a combination of "smoking" and "flirting". This new behaviour pattern came with the non-smoking laws and allows a new kind of communication which lasts as long as a cigarette just outside the pubs. You wait until someone you would like to get to know in the pub gets up to have a cigarette and then join the person outside and use this 5-minute break together to get to know each other. Wikipedia has picked up this new trend and even describes the phenomenon of "passive smirting" as "the pastime for those who stand outside with friends or colleagues but do not actually smoke themselves."
absolutely changed:
While most of the time we just react to updates and readjust our lives accordingly, some people actively open themselves to challenges and updates – for example by studying in another country in order to broaden their horizons. Aurora Mustonen from Finland is such a courageous person. She tells us how after her A-levels in Finland she decided that she wanted to move to England to do her bachelor's degree.
It is amazing how such stays abroad do not only train our adaptability to other cultures but also seem to change our attitudes when we go back to our own cultures afterwards. This may be because we integrate successful pieces of behaviour which we learned and tested abroad into our home culture.
absolutely motivating:
In our last category, we go on to another Finnish exchange student, Anna Moisio, a student at our University of Applied Sciences, Koblenz, who took part in a course called "International Business Simulations". She soon found out that while this was called a "simulation" her managerial tasks as the CEO of the simulated company with branches in Lithuania, England, and Hungary had to be pretty "real".
Anna explains to us how she had the opportunity to prove herself as the boss of an international company and was able to put into practice what she had learned about motivation and leadership in lectures and books, all within her experience at the foreign university setting. This experience was particularly important for her, as after completing her master thesis she plans to set up her own company. We wish her good luck for that!
The next show will be coming to you on 1 May from Anne Fox in Denmark.
So long…stay tuned!
The host of this show is: Dr. Laurent Borgmann
Editor: Jan Warnecke