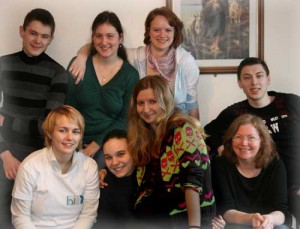 absolutely achill:
This show is centered around our European Project which is called Borrowed Identities. And as you can see and hear Anne Fox is also involved in this. We are on the beautiful Irish island called Achill out in the Atlantic off the coast of Westport. I am very priviliged to be here with a group of 38 learners from four European Universities on an ERASMUS Intensive Programme subsidised by the European Commission. The participants have 12 different mother languages and in this remote part of the world we must look like a pretty colourful bunch of Europeans. Though during the day we are working a lot in our workshops all of us were immediately captured by the landscape and the music of this amazing island.
absolutely intensive:
In our first category we take you listeners with us on a virtual journey which started in the classrooms of the universities of Kaunas in Lithuania, Worcester in England, Koblenz in Germany and Budapest in Hungary in October last year. All participating students took part in a preparatory course where they got to know the students at the other stations through the new media. By getting in touch with each other they found out more about the cultures of the participating countries and produced documentation, e.g. on how to prepare a meeting in Lithuania, how to tailor your job application for the English market or an advertisement for the Hungarian market. During this "virtual phase" the students used email, forums, chats and podcasts to get in touch with each other and prepare for their real face-to-face meeting in February. Then on the same day all students from the various countries got on planes and flew to Ireland to meet each other in real life – they went "from virtual to real". In Ireland for two weeks they worked in mixed nationality workshops and lectures on Intercultural Communication and related topics. The workshops managed to include local Irish participants and some students took the challenge of trying out new leadership roles as workshop coordinators, documentation or language diversity managers. They also learned that working in international groups can be quite a challenge and acknowledged that this real life experience teaches you more than any international project management book can. Most participants were surprised to find out a lot about their home culture – simply by stepping out of it and looking at it from a distance.
absolutely conversational:
Our social manager Maria Koenen had prepared an interesting small-talk exercise to prepare all students just half an hour before we were expecting our local guests in order to warm us up for small talk and find the right topics which would actually keep the conversation going. We had to stand outside our reception place in two circles, the inner circle facing out and the outer circle facing in so that everyone had a conversation partner just in front of them. After 60 seconds of small talk Maria asked the inner circle to move one person on so that everybody had a new conversation partner – a bit like in speed dating. With the new partner we could either practice the same conversation topic again or try another one. The subjects ranged from to the workshop contents to national stereotypes, age and background of the participants to the eternal small-talk subject: the weather.
absolutely integrated:
Anton McNulty, a local reporter of the Mayo News, turned up to the first reception of the European group without telling anybody that he was from the newspaper in order to get a neutral impression. He was astonished and delighted that the students all seemed so eager and kind of competed to attract him to their particular workshops in order to spend their time on Achill working with him.
If you want to hear more about the project Borrowed Identities and want to listen to what the students produced and learned from the two weeks, please check out our podcast in a month's time, where we will follow up this story with a second part.
The next show will be coming to you on 6 March from Anne Fox in Denmark.
So long…stay tuned!
The host of this show is: Dr. Laurent Borgmann
Editor: Jan Warnecke