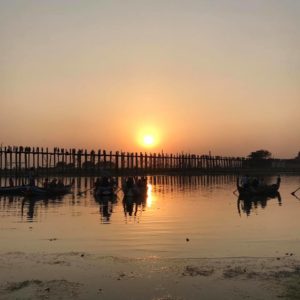 In this show we are going to find out how a shaman does his work, as well as first impressions of Finland when you come from Zambia. Strangely enough, it was also my first time in Finland and we did discuss in the project team whether it was a good idea to visit in January but we are planning to go again in June when there will be 24 hour daylight and mosquitos out in full force so we will get the whole range. The occasion was a small-scale conference in which the Prof E Sus project was wrestling with the idea of defining, measuring and creating a sustainable mindset in the teachers of home economics. One of the participants was Dr Hosea Lupambo Chishala a teacher trainer from Rockview University in Lusaka and he shared with us that in Zambia you can mark your status by how much you are able to waste. This means that he is faced with a really big challenge. And we'll also be talking to Mia Fox about how she stumbled across a shaman unexpectedly in Myanmar
absolutely longterm
So I was in Finland to attend a small conference to pin down the idea of a sustainability mindset and how to promote it. Mindset is a slippery concept. We know for example that when learning it is good to have a growth mindset and when interacting with other cultures, it is good to have an empathetic mindset. In the Profesus project we are developing a course to help teachers promote a sustainable mindset in home economics students but we can't expect this to happen overnight. Dr Hosea Lupambo Chishala from Rockview University in Zambia, who came to our conference, takes the long view around our attitudes to wastefulness.
absolutely shamanic
Now if I say the word shaman, what comes to your mind? I'm going to take a guess that whatever you are imagining now is not at all like what Mia Fox experienced. As part of a back-packing trip to Myanmar, Mia Fox went on a three-day trekking trip staying with locals overnight and being guided by the tour guide during the day. And then, when they had stopped for lunch, the tour guide suddenly turned into a shaman.
absolutely freezing
It was my first time in Finland. Honestly I have no idea how it has taken me so long to visit the country. But for me, based in Denmark, the contrast was not so sharp. However for our Zambian participant Dr Hosea Lupambo Chishala , not only was this his first time in Finland, it was also his first time in Europe so let's find out his impressions in our segment, absolutely freezing!
Thank you all who joined us for today's show. Please check out our website at absolutely-intercultural.com. Here you can get more information about this and previous episodes. And if you liked our show, please like us on Facebook, too.
By the way, did you know that we are also on iTunes? You can subscribe to us there for free and give us a rating and a comment. We would appreciate that!
Our next show will be coming to you from Laurent Borgmann in Germany on 2 March
Until then – stay tuned!
The host of this show is: Anne Fox
Download
Podcast-Feed
iTunes-Abo