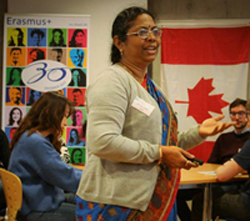 To what extent does study abroad influence  students' future life both in academic and career perspectives? Well, in this episode, which will be the last of a series on the 30th Anniversary of the ERASMUS program, we will listen to my colleague from RheinAhrCampus , who works with outgoing students, and helps them find the best partner universities for their stays abroad. She will talk about differences in students' behaviors and appearance which she notices after they come back from their host country. We will also interview two guest lecturers from Portugal and from our partner university Indian Institution of Technology, Madras. They will talk about staying abroad and an extraordinary campus in India, and how it was first established with German aid in the 1960s. And we will hear some voices of international professionals who were once exchange students in Germany and who will tell us what skills and habits they gained during their studies at RheinAhrCampus. Finally we will listen to my co-host Anne Fox from Denmark who was in Germany and took part in our seminar Managing Cultural Diversity.
absolutely astonishing
In our first category Barbara Neukirchen talks about students before and after they go abroad and what differences in their appearances or even in their behavior she will notice. How do they use their semester abroad to change their lives?
absolutely life-changing
In the second category  of our show our former international students and Carina Cerqueira guest lecturer from partner university in Portugal share their impressions how a semester abroad changed their life, what opportunities it brought into their academic activities and career plans?
absolutely extraordinary
In the third category, guest lecturer Prof Thenmozi from India, talks about the Managing Cultural Diversity Seminar she attended in Germany. Then she describes her extraordinary campus, where students meet animals every day and of course about German students who choose India for their semesters abroad. Do they behave differently from the Indian students in the classroom?
absolutely playful
In our final category Anne Fox from Denmark talks about the recent projects she has been working on with refugees in Denmark. The activities where they involve local people and refugees in playing games demonstrate how citizens of a country can easily help asylum seekers adapt and integrate.
Thank you all who joined us for today's show. Please check out our website at absolutely-intercultural.com. Here you can get more information about this and previous episodes. And if you liked our show, please like us on Facebook, too.
By the way, did you know that we are also on iTunes? You can subscribe to us there for free and give us a rating and a comment. We would appreciate that!
Our next show will be coming to you from Anne Fox in Denmark on 2 February
Until then –
Bleiben Sie absolut interkulturell!
The host of this show is: Dr. Laurent Borgmann
Editors: Marina Jimenez Martin and Zarnura Hajiyeva
Download
Podcast-Feed
iTunes-Abo