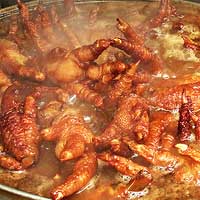 Let us  take you on a culinary audio-trip to China and Belgium. Yes, let us talk about food! In previous shows we've talked about going abroad, about culture shocks and the different habits in foreign countries. But apart from the language and the attitudes of the other culture, what about the local cuisine? What happens if you travel to a country in which you don't know anything about the food culture? Can you prepare yourself for such a situation before you leave?
absolutely different
I am not sure whether you have seen the film Julie and Julia which is all about food and preparing food and eating food and cultural differences between food in America and food in France. If you have not seen the film, please put it at the top of your list of films to see because it is full of little intercultural gems and Meryl Streep is just incredible in it. In the film Meryl Streep plays Julia Child, an American who is the wife of a diplomat in Paris and falls in love with the French way of cooking. She decides to introduce the French cuisine to the American housewife of the fifties by writing the book "Mastering the Art of French Cooking"
Now, what about you? What are you like? When you travel to a foreign country, where you have a totally different cuisine from home? I asked Mingxia, one of my business students from China, if the food offered in Chinese restaurants in Europe is the same as food offered in China.
absolutely fun
When we talk about countries like China we expect a big difference in food habits, but how about our European neighbors – for example the Belgians? Normally we would think that we have a lot in common, but Filip Dedeurwaerder told me that even the time we spend eating our food is very different. For example, while in Germany we often only take half an hour to eat during our lunch break, the Belgians take much more time to celebrate their food and are allowed to have a glass of wine with their lunch. So, eating and drinking habits seem to be very different even with our closest neighbors.
absolutely adventurous
Carina Mayer, a student from the RheinAhrCampus in Remagen, did an internship in Hong Kong, searching for a cultural change and new experiences. She gives us some insights into her experiences with the Chinese cuisine. It seems that she was eager to try everything that the Chinese put on her plate. She often went out to try out and enjoy the variety of the Chinese cuisine with her colleagues. Carina is really adventurous and was looking for a totally new experience and that was exactly what she got.
Our next show will be coming to you from Anne Fox in Denmark on 18.September
Until then –
Bleiben Sie absolut interkulturell!
The host of this show is: Dr. Laurent Borgmann
Editor: Dino Nogarole