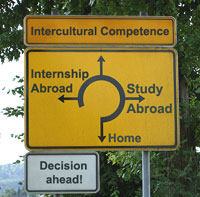 Today we are a little student-centred and try to solve the question whether from the cultural point of view it makes more sense to study abroad or to do an internship abroad. If you want to participate in this debate, please feel free to post your opinion. I am sure we can pick it up in one of our future shows.
absolutely serious:
I have Kyle Hickman from California in the studio. Kyle is doing an internship with a big national newspaper Frankfurter Allgemeine  and tells us a little about the cultural differences he has noticed between California and Frankfurt in Germany over the last couple of months. For example, he seems to have detected a difference in attitude towards interns who are doing a practical training in a company. While he expected to be exploited as cheap labour – making coffee, copies or "cold calls" he noticed that his present internship in Germany is really centered on the development of the intern – often even based on the intern's personal interests. So, from the beginning Kyle has been trusted with what he calls "real work" and has been able to contribute to the success of the newspaper. However, he also found out that smiling too much could be seen as negative and has adapted his behavior in this respect. He did not find it difficult to integrate as he jumped at every opportunity to be social with his co-workers. Listen out for what Kyle shares about eye-contact and how he had to adapt to a different cultural approach because I think eye-contact and smiling are two pieces of mostly intuitive behavior we need to think about every time before we visit another culture.
absolutely cultural:
When students come to my office and express an interest in going abroad one of the first decisions to be taken is usually whether they want to study at one of our partner universities or find a workplace abroad to do an internship. Personally, I find it difficult to assist in this decision as the two are so different and both have their advantages and disadvantages.
I interviewed Marie Nielsson, a Swedish student who has been to Germany twice, once as an intern and then as a student. You may remember her from Episode 7? During her internship she seemed to have learned a lot about the German working style in an office but she thinks that as an Erasmus student it was easier to find out more about the foreign culture as she had closer contact.
absolutely fabulous:
When you sit in any university restaurant anywhere in Europe, you will often hear students complain about their own university. "There are too many lectures, too much too learn for the final exams and sometimes there is even a queue for the food in the Mensa. However, a couple of weeks ago I heard completely different opinions at a neighboring table. One student sounded more positive than the next. Enough to get me interested and in our last category today we listen to some students who are praising their own university, RheinAhrCampus in Remagen as if they were paid for this. So what has happened? Have times changed? Why are these students so positive about their campus? I asked one of the students, Christian Gauglitz, and it turned out that he was, in fact, the minder of a student-led marketing activity. The students had developed a flyer and an audio file highlighting the strong points of RheinAhrCampus. He told me how they had worked and what their aims had been.
The next show will be coming to you on 24 July from Anne Fox in Denmark.
So long…stay tuned!
The host of this show is: Dr. Laurent Borgmann
Editor: Jan Warnecke