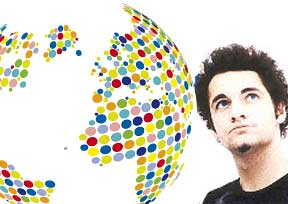 Today the whole show is dedicated to the go-out campaign, of BMBF and DAAD, the German Academic Exchange Service, which encourages young people to spend a semester abroad. I spoke to students and organisers and asked them how to plan your stay abroad,  which skills are needed and what benefits we can expect to get out of it. They told me what reasons motivated them to plan this big step in their careers and but also in their private lives and which intercultural experiences they have made abroad.

absolutely infected
Making intercultural experiences abroad is becoming more and more important for our working lives. It is generally agreed that students should pack up, leave everything behind, discover the intercultural world and learn about new cultures at least for one semester. I met a student who has done this more than one time. In our first category we hear how Tobias Pfanner went to Canada and after this experience he also did an exchange semester at our partner university in Australia. Right now he is applying for a scholarship to do his internship in China. But let us listen to how it all began during his first weeks on campus.
absolutely going out
In our next category I spoke with Wolfgang Kreft, from the go-out campaign of the DAAD, the German Academic Exchange Service. He told me how they tour from city to city – from university to university park their mobile stand with information in the middle of the campus they visit and try to convince students to make that big step and study abroad. I must say I am a great fan of the go-out campaign of the DAAD that reaches out to the students where they are – in the middle of their campus and sends out the clear signal that going abroad is not reserved to the best students and certainly not only to the richest students but should be an aim for everybody. On our campus this has inspired many students to find out more about our partner universities and scholarships and to visit the international office to get more information
absolutely strategic
In our next category, I interviewed David, a student who has made internationalization a priority and has studied and worked in Germany, Hungary, Ireland, Russia, and in Great Britain – no wonder he is strategically planning to join the diplomatic service after his studies.
absolutely german
In our last category I did an interview with Dino, who is the student editor of this podcast and who has just come back from his experience abroad. He spent a semester at our partner university in Spain and told me what motivated him to make his own intercultural experiences abroad.
Our next show will be coming to you from Anne Fox in Denmark on 23 July
Until then –
Bleiben Sie absolut interkulturell!
The host of this show is: Dr. Laurent Borgmann
Editor: Dino Nogarole