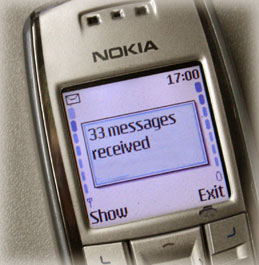 Skype, SMS, Blogs, Twitter, Facebook, and Second Life. Like the characters in Pirandello's play "Six Characters in search of an Author" these applications seem to have been set loose on our post-modern society without a clear script or a destination.
We have all heard about these digital applications which promise to make our lives richer, more interesting and more "connected". However, it is difficult to predict which of these activities will still be part of our culture in 20 years' time. Will they replace old-fashioned communication channels like the telephone or email? Or are they just a passing fashion for digital geeks and flat rate junkies?
Today we want to look at the online culture and how we all manage to be part of it in our daily lives at work and at home.

absolutely private:
Some weeks ago at a teacher-training event I met Evi and Linda who had attended my seminar on integrating new media such as podcasts and twitter into their teaching. Later in the afternoon I had the chance to speak to the two to ask them about their general attitude towards new media for communication. I asked how essential mobile telephones are in their private lives and while Linda has had her mobile since she was 13 (which seemed normal to me) to my utter surprise I heard from Evi, a successful professional in her thirties that she only bought her first mobile phone four months ago and only because she had to …

absolutely connected:
Assja Tietz, one of our students, who has spent a lot of time in different countries during her studies speaks about her study period in Australia, an excursion to Ireland and her recent internship in Hungary. What with all her moving around her challenge is actually to stay in touch, both with family and friends at home but also with those new friends she met during her stays abroad. So rather than being overwhelmed by too much communication on different media channels she is constantly looking for the best ways to be "close to home" even when she is far away…

absolutely fashionable:
Katrin dares a prognosis whether the new technologies we hear so much about will become important parts of our communication or whether they are more like a fashion that comes and goes. Can you imagine that perhaps nobody will remember Facebook or Twitter in ten years' time?
The next show will be coming to you on 14 November from Anne Fox in Denmark.
So long…stay tuned!
The host of this show is: Dr. Laurent Borgmann
Editor: Jan Warnecke