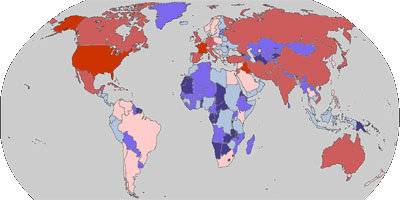 Today we're going to start with a short test. You're going to need something to write with and a piece of paper. I'm going to say two words and you just need to write down the first two or three words which come into your mind when you hear them. Ready? Right. The first one is Britain. Note down the first two or three words which you think of when I say the word Britain. Done that? The next one is Africa. Note down the first two or three ideas which come into your mind when I say Africa. Finished? Well I'll tell you how you scored later on in the show. What have we got for you today? Well in the first piece I'll be talking to Ekene Ajufo and Polly Anna Sanches Martinez about a discussion forum event they organised on behalf of the African Student Union at their university in Florida to discuss the theme of 'Us v Them' But surely in this era of the internet we're all reasonably aware of what it's like in Africa? We'll also be hearing more from Cornelis Hulsman in Egypt about why good information literally can save lives. And as well as good information we'll be hearing about the power of music to bring people together in a very concrete way when we talk to Merlijn Twaalfhoven who specialises in bringing music to conflict ridden areas of the world. And I'll be reminding you that it is still possible to vote for us in the European Podcast award both under Germany and under Denmark, and that you don't have to be in Europe to vote for us, and that the voting is open until July! We have prepared some guidance here.
So what did you note down during my little test? If your notes include words such as tribal, tyrants, Aids or lions then you will understand that you have failed! If you'd like to tell us how you did on the test or talk to us about anything else to do with the podcast then please add a comment.
absolutely informative
Let's now join someone who featured in show 106 and who I met at the Anna Lindh Foundation forum in Barcelona in March. Cornelis Hulsman is trying to improve the quality of information coming out of one specific African country, Egypt through his various organisations, the Center for Intercultural Dialogue and Translation as well as well as the Center for Arab-West Understanding and the Electronic Network for Arab-West Understanding. In his conversation with me he explains the secular origins of the Abu Fana incident which later made world headlines as a religious conflict.
The next show will be coming to you on 14 May from Dr. Laurent Borgmann in Germany.
So long…stay tuned!
The host of this show is: Anne Fox
Editor: Dino Nogarole