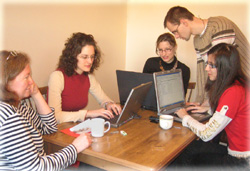 Absolutely Educational The main part of this show is devoted to the impressions of two of the teachers who facilitated workshops as part of the 'Borrowed Identities' project which brought over 30 students together from Hungary, Germany, the UK, Spain and Lithuania on the west coast island of Achill in Ireland. How did the teachers manage these multi-cultural groups? Were there language problems? Listen as Scott de Francesco from the USA and Dainora Maumevičienė from Lithuania describe the progress of the groups as the week wears on. You can find out more about the project and what went on by reading the online travelogue produced by another of the project workshops.
Absolutely Musical A feature of island life is that people are multi-talented. One outstanding example of this is Kate O'Malley who works at the Achill Cliff House Hotel who also has a magnificent singing voice. She was persuaded to sing on our last night on Achill so we have included an extract from the haunting song 'The Island' which really made the hairs on the back of our necks stand on end.
The next show will be coming to you on 21 March from Dr. Laurent Borgmann.
So long…stay tuned!
The host of this show is:Anne Fox in Denmark