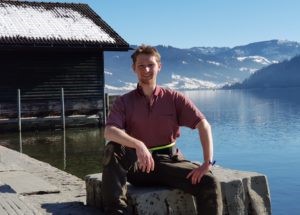 Welcome to show 253 of Absolutely Intercultural, A Day in the Life of Kalvin, coming to you from the beautiful Rheinland in Germany. Today's show is an immersive journey about daily life in Germany, narrated by one of our Australian international students. Have you ever considered living overseas or wondered about what intercultural challenges you would face? Today we hear directly from Kalvin and experience a summer day in Germany firsthand.
absolutely foreign
In our first category, Kalvin introduces himself and describes his first experiences in Germany, before giving us a tour of the town of Remagen in all its beauty, highlighting the intercultural differences, like shop prices or drinking culture.
absolutely speechless
In our second category, we learn about the fun and challenges of being a native English speaker in Germany, like trying to practice German when the Germans want to practice English. You will hear a few embarrassing moments and pick up some Australian slang.
absolutely smashing
In our third category, we learn what exchange students do while their professors are not looking. Experience everything from the beautiful German landscape to  the beer-drinking-game Beerpong. You might also hear a few exploding apples.
Although Kalvin's first experience of Germany was interculturally challenging, it sounds like he has made himself a new home and many good friends. Perhaps you would like to make your own adventure abroad or experience a similar transformation away from home?
A special thanks to our narrator of this show Kalvin Mitchell, who has given us an insight into intercultural challenges in Germany.
Thank you all who listened to the show. If you enjoyed it, please like us on Facebook. By the way, did you know that we are also on Apple podcasts? You can subscribe to us there for free and give us a rating and a comment. We would appreciate that!
Our next show is coming to you from Anne Fox in Denmark on 04 September, 2020.
Until then –
Bleiben Sie absolut interkulturell!
The host of this show is: Dr. Laurent Borgmann
Chief Editor: Kalvin Mitchell
Assistant Editors: Christopher Leedman and Kofi Prempeh
Download
Podcast-Feed
Apple podcasts-Abo