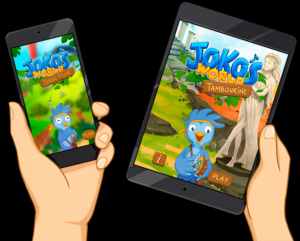 Let's play and learn. In this show we'll be playing games and music and I'll be announcing a new course if you are a teacher of adults in a diverse classroom and there's news of an additional podcast episode coming in September, off-plan and in Danish.
Thank you to all those of you who have been following us on Facebook where we add links to interesting intercultural stuff and alert you when a new show comes out. Shoutout to Imad Zazi who gave us our 600th page like. Thanks Imad!
In today's show we'll be hearing how music can help children learn about global cultures.
We'll also be talking to George Simons about an exciting new twist to his well-established Diversophy game.

absolutely integrated
Five years ago we introduced you to George Simons, an American based in France, and his Diversophy game that gives people a way of deepening their intercultural understanding in a concentrated session. Since then George has partnered with many individuals and organisations to extend the scope of the game to different cultural regions. And now George has thought of a way of extending the game to cover the new situation of countries having to cope with a sudden influx of refugees. The game brings refugees and the host population together and helps them to better understand each other in a playful way that has a lasting impact.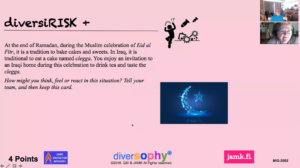 And George has been experimenting with playing the game online. Hear him as he goes through a few of the cards as they would be played online. You can see all the cards mentioned by watching the YouTube version of this interview on this web page.
As you heard, George is keen to extend the scope of the game to more relevant countries so if you would like to get involved with this project then get in touch.
Watch a longer version of my chat with George Simons about the new Diversophy game in the video below.
absolutely Danish
And this is a good time to announce that in September we will be going absolutely Danish with a special edition in Danish exploring more about migrants and refugees in Denmark. This show won't have a number but will be stand alone. Most likely it will be in video format rather than audio so that we can add Danish sub-titles. The aim behind it is to reach a Danish audience on the topic of refugees which is much discussed here in Denmark and elsewhere too but often lacking the voices of the refugees themselves.
absolutely musical
So games work. Another way of reaching people is through music. And in this case we are going to be looking at how this is particularly effective in reaching children. I caught up with Willow Nielson of Cultural Infusion who is a well-travelled musician currently based in the US.
Yes, you heard right. Australia requires that schools prepare their students interculturally and when I looked into it, I discovered that this means infusing all school subjects with intercultural understanding, rather than having intercultural competence as a stand-alone school subject.
absolutely Joko
I was intrigued by the idea of tech for intercultural understanding and downloaded one of the Joko's World apps.
So from playing the instrument, you can go on to learn more about the instrument, what it plays, where it is played and some of the stories associated with it. Willow Nielson has some vouchers for the full version of the Tambourine Joko's World app so get in touch with us if you are interested. First come, first served!
absolutely prepared
If you're a teacher of adults that's been seeing their classes get more and more diverse then you may be feeling that you need to find out more about how to help your students reach their full potential. Or maybe you have a feeling that there are barriers caused by intercultural differences. If so, then you may like to try our new three week online course starting on September 12 through WiZiQ. For $75 you will get the chance to find out about some of the main intercultural dimensions, explore how stereotypes play out in the classroom, try out dialogue techniques to know your students better and make a plan for applying some of what you have learned in your own classroom.
And still on a pedagogical note, here is George Simons talking about an idea for short sharp intercultural training interventions that we didn't have the time to include in the audio podcast.
By the way, did you know that we are also on iTunes? You can subscribe to us there for free and give us a rating and a comment.
We play out with another piece by Willow Nielsen, an arrangement of Coco Zhao's Sunday Story Lightbulb.
Don't forget to leave a comment on iTunes. We'll be posting on the Facebook page. The next show will be coming to you from Germany with Laurent Borgmann on September 2nd. So until then stay tuned
The host of this show is: Anne Fox
Download
Podcast-Feed