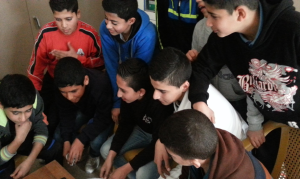 Today we'll be hearing about some amazing efforts by an English teacher in Côte d'Ivoire to get his students confident in speaking English. Our contributor's name is also interesting! Then we'll be talking to a Palestinian teacher I met at the IATEFL conference earlier this year whose students used Skype to show how a Palestinian wedding is arranged. And we'll be hearing about church services in Kenya. We also have news of additions to our website and a new newsletter that you can subscribe to if you are a teacher who wants to be more culturally responsive in the classroom. In fact we have a couple of other new things up our sleeves before the end of 2015, so stay tuned!
absolutely Palestinian
Did you know that September 17th is Global Collaboration Day, a new initiative to open the classrooms of the world to others. One person you may like to hook your class to is Atiyyeh Hussein Al-Habal who is using Skype to overcome the constraints of travelling in and out of Palestine. Listen how his 13-17 year old students' perspectives have been widened by connecting up with classes in Russia, Romania and the UK by Skype even including a short play showing how a Palestinian wedding is arranged. Atiyyeh Hussein is looking for opportunities to connect so do get in touch if you would like it to be one of your classes. You will find his email here or you can contact us and we will pass on your details. In Skype you can have an audio only connection or audio with video. Video takes more bandwidth so my first question was why was it important to use video?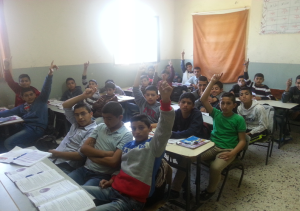 absolutely rebellious
At the IATEFL conference in Manchester earlier this year I met Nda Kouassi from Côte d'Ivoire who was experimenting with his English classes. Listen as he tells us how absolutely rebellious he is in a country where not only the curriculum but also the teaching methods are prescribed. I also wondered how Nda Kouassi's ideas were filtering to his colleagues…
absolutely party
In our final slot, we will travel to Kenya. You may remember that I featured my daughter and one of her schoolmates in show 188 on a school trip to Kenya. The Danish students were each hosted in private homes and Caroline's family took her to church on Sunday. This was like no other church service Caroline had ever experienced before so let's go absolutely party.
Remember that if you would like to connect with an upper secondary boys school in Palestine that Atiyyeh Hussein is looking for more partners. If you have an idea for the show then contact us. And don't forget to take a look at the new page on culturally responsive teaching on our website where you can sign up to a newsletter collating together ideas and information as well as links to available training. Don't forget that September 17th is Global Collaboration Day!
There's even more coming in the next few weeks so we should have an exciting end to 2015. The next show will be coming to you from Germany with Laurent Borgmann on October 2nd so until then, stay tuned!
Don't forget to like us on Facebook or leave a comment on iTunes and stay tuned!
The host of this show is: Anne Fox
Download
Podcast-Feed