In this show we will be talking to Frank Thoms whose book, Behind the Red Veil, came out just recently. As a young teacher in the US, Frank was very curious about the USSR, the old Soviet Union before it broke up into Russia and the different states again in the 1990s.
I also talked to Kim Corbin in Canada who is a teacher specialising in diversity and inclusion.
absolutely red
For those of you under 40 years old, I have to remind you that the Soviet Union in the 1980s was a very cut-off and controlled country. So, when Frank Thoms made his first visit to the Soviet Union for a teacher exchange, he was not allowed to go where he pleased. His latest book is called 'Beyond the Red Veil: A U.S. schoolteacher's adventures in Gorbachev's Russia' and so I started by asking about that title
absolutely culturally responsive
Kim Corbin in Canada is a teacher who has specialised in diversity, equity and inclusion in the classroom and this includes making sure that cultural diversity is reflected in school as a matter of everyday practice. The coaching and educational professional development company, Powerful Learning Practice or just PLP, has hired Kim to help other teachers to implement cultural diversity in the classroom. So, let's go absolutely culturally responsive and find out more about what Kim does for PLP?
By the way Kim shared a great image of the mindset of a culturally responsive educator (more information and context here, The Mindset of Culturally Responsive Educators) which consists of six different facets including high expectations and desire to make a difference as well as the core of culturally responsive teaching practices. The image is posted below. Let's hope more countries follow the lead of Canada and Australia to implement cultural diversity in the classroom.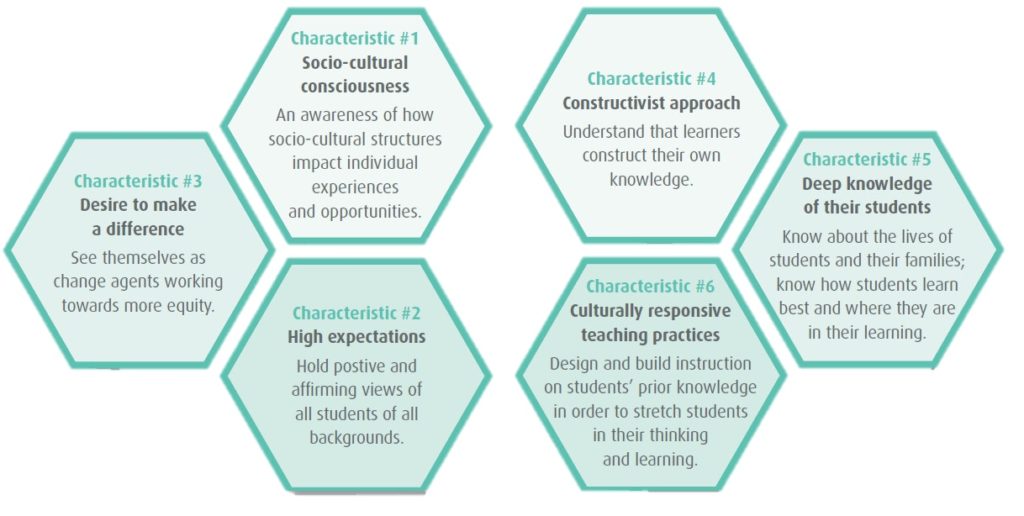 absolutely pedagogical
Now let's go back to Frank Thoms and find out more about the sort of teaching methods he encountered in the Soviet Union.
Well we hope you have enjoyed this tour to the classrooms of the Soviet Union and Canada. Thank you to Kim Corbin and Frank Thoms who were willing to share their experiences. If you have an idea for a future show then you can get in touch with us by leaving us a comment here or in a message to our Facebook page where we post interesting links several times a week. We'd love a like of our Facebook page if you have one to spare! You can subscribe using the Apple podcasts button below, as well on our FaceBook page where we post interesting links several times a week .
The next show will be coming to you from Dr Laurent Borgmann in Germany on December 4th so until then stay tuned!
The host of this show is: Anne Fox
Download
Podcast-Feed
Apple podcasts