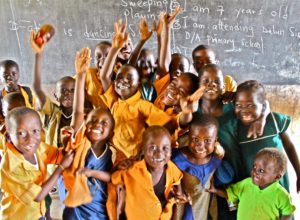 Happy New Year! In this show, we are going to go back to shows 70 and 74 in 2008 and 2009 when I talked to Signe Møller here in Denmark about a new charity she had just set up.
This show, 234, is ten years later, so why am I re-visiting Signe's charity 100% to the children? Because I bumped into a stall for her charity at a local Christmas market last November and I was curious to find out how this one-woman organisation was doing.
absolutely charitable
The 17 Sustainable Development Goals was a very noticeable aspect of the way in which 100% for the children was trying to attract attention at the Christmas market I visited last year. They were very clearly linking their work to the Sustainable Development Goals or SDGs that the United Nations has devised. Something I've been very interested in for the last two years too. So first of all what is 100% for the children [in Danish]? And how do they link the SDGs to their charitable work? Camilla Legendre, Head of Project Management & Fundraising and Camilla Olesen, Head of Communication talked to me at the end of 2018. Let's go absolutely charitable.
absolutely equal
Then I wanted to focus on one of the SDGs, that of gender equality. Let's hear in our next segment, absolutely equal about how you go about promoting gender equality.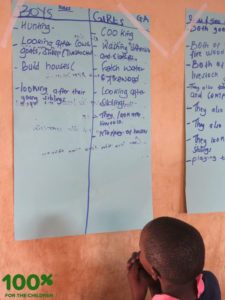 absolutely unneeded
I wanted to go on to ask about whether there is a prospect of charities like 100% not being needed any more but as you will hear we were interrupted by a very noisy military band at the Copenhagen end! (The video below shows the route taken by the Guard and so the two Camillas must have been speaking to me from one of these buildings!).
Next I tried to make a connection between the rise of nationalism and populism in Denmark and the rest of Europe and how this affects the public's willingness to support charities such as 100% for the children and I found both Camillas were very positive.
absolutely on target
So how does a small charity such as 100% for the children that relies mainly on volunteers and partnerships communicate with their target group? It's not just about attending Christmas markets in November and December is it? Let's go absolutely on target.
So the SDGs link the whole world together, 100% for the children continues without their founder and builds on volunteerism and partnership. I hope you find this a positive way to go forward in 2019!
Find out more  on our blog here where you can also access our archives. You can also follow us on Facebook where we share interesting links several times a week. And of course feel free to subscribe to us on iTunes.
The next show will be coming to you from Australia from Dr Laurent Borgmann on February 1st so until then stay tuned!
The host of this show is: Anne Fox
Download
Podcast-Feed
iTunes-Abo