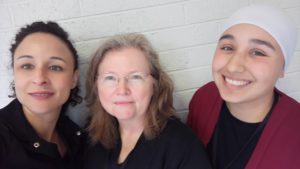 At the end of May I attended the SIETAR congress in Dublin, Ireland, which was all about cultural dexterity for turbulent times. Welcome to show 215 of Absolutely Intercultural which today features three of the speakers from the Congress. Plus I was there to talk about the culture of sustainability

absolutely dextrous
SIETAR stands for the Society of Intercultural Education, Training and Research and the Congress is a delightful mix of all those areas, with a Film Festival track, trainer tracks and academic tracks. I asked Nawal Ahimi and Farah Shakir for their impressions of the Congress. Nawal is Dutch-Moroccan, currently completing her Masters at Rotterdam and Farah is completing a PhD on multicultural management in Barcelona, Spain. I asked Nawal and Farah both first timers, about their impressions of the congress and then to tell us a bit about their sessions.
absolutely improvised
I am going to end the show with a short snippet of Brett Parry speaking with Line Mørkbak and Kristin Hilbler about using improv in intercultural training. Listen as they demonstrate an exercise called Swedish Stories. I was especially delighted to be able to meet Brett Parry of Cultural Mentor. Brett is an Australian based in the USA and runs the Cultural Mentor podcast as part of his expat consultancy and we got permission to bring you a snippet from one of his shows about the use of improv in intercultural training.
The next show will be out on the 7th of July so until then stay tuned!
As well as this website we also have a Facebook page of the same name. Subscribe to the page to be the first to know when a new show is ready, to add comments, to suggest ideas for upcoming shows and to see the links we post most weekdays that have intercultural interest. You can also subscribe to the podcast on iTunes.
The host of this show is: Anne Fox
Download
Podcast-Feed
iTunes-Abo