You will hear about The BOBs, the GO OUT campaign and what British schools and the army have in common.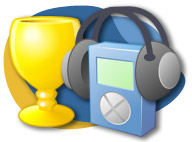 Absolutely Fantastic: The support you gave us for The BOBs was absolutely fantastic and thank you to everybody who voted, commented and listened. We came third in the user prize category and that is solely down to your votes. Add your comments here or send us a mail or audio message to let us know how we can be number one next year.
Absolutely Mobile: Laurent and Karsten from the Fachhochschule Koblenz, Germany, give you some background information on the "GO OUT" campaign initiated by the German Academic Exchange Service, DAAD. During this week students can prepare themselves for a semester abroad, both, at a partner university or in a company.
Absolutely Personal: The show concentrates on two individuals who both went to work for a period in the UK.
First we hear from Dane, Tommy Søholm, who went for three years working for NATO in the UK. Life was not as regimented as you might think for Tommy the soldier, but on the other hand even his youngest child was drafted into the disciplined ranks of the British schooling system much to everybody's surprise in the family.
Then we hear from Yogesh Bang, a software engineer based in India who has been posted abroad for short periods on assignment several times now. Hear what he has to say about the work life balance and the concern shown to him by his landlady in the UK as he went off for a weekend in Chester.
The next show will be coming to you from Germany on the 1st of December.
Until then…stay tuned!
The Host of this show is: Anne Fox