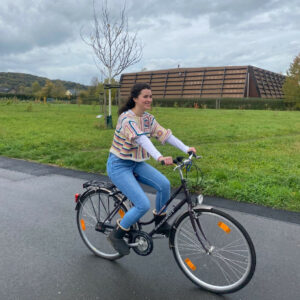 Hello dear listeners and welcome to show 288 of our podcast "Absolutely Intercultural". Today's topic is all about traffic. I'm Laurent Borgmann, and my wife and I, both in our early sixties, made a significant decision when we hit 40 – we decided to get rid of both our cars. Now, this might come as a surprise, given that we're from Germany, a country renowned for its love of cars. On top of that, we both have 60-kilometer commutes in different directions. But the transition from private vehicles to public transport turned out to be remarkably smooth for us. For the last twenty years we have  happily immersed ourselves in books or worked on our laptops during our daily commutes.
absolutely racing
In our opening story "absolutely racing", we'll tune in to Jung from South Korea. As an external observer in Germany, Jung offers us a unique perspective on traffic culture, both, as a pedestrian and as a driver. She observes, that the typically patient and disciplined Germans, who readily give to pedestrians in the city, somehow transform into impatient, speedy daredevils when they hit the Autobahn – Germany's iconic high-speed highway.
absolutely honking
In our next part "absolutely honking", we'll hear from Rindi, originally from Albania, now living in Germany. Rindi says he can spot young Albanian drivers in Germany just by the sounds of their cars on the streets.
absolutely discriminated
In our final story "absolutely discriminated", we'll hear from Natalia, originally from Ukraine and now a resident of Germany for the past four years. Natalia opens up about the cultural prejudices she encounters in car-centric Germany as a woman who doesn't drive.
Now, we´re curious about your experiences with traffic culture. Are you a pedestrian, driver, or passenger? Are you patient or always in a hurry? We´d especially love to hear from those who want to challenge and change the existing traffic culture. Get in touch, feel free to share your unique story with us here on the podcast.
Share your story with us via comment or email, and you might feature in one of our upcoming shows. For more information and previous episodes, visit our website at absolutely-intercultural.com. If you enjoyed the show, please give us a thumbs-up on Facebook.
By the way, did you know we are also on iTunes or Apple Podcasts? You can subscribe to us there for free and give us a rating and a comment. 
Our next show will be coming to you on 1 December from Anne Fox in Denmark
Until then – drive, ride, or walk safely!  and
Bleiben Sie absolut interkulturell!
The host of this show is: Dr. Laurent Borgmann
Chief Editor: Natalia Obikhod
Assistant Editors: Mariam Bilge, Sebastian Berg
Download
Podcast-Feed
Apple podcasts