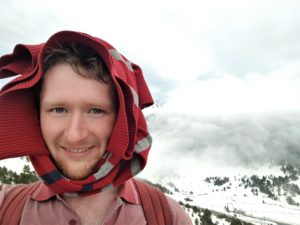 Today's show is about Green Erasmus. Have you ever wanted to adventure like Indiana Jones or simply wanted to travel without harming the environment? In today's show we give two very real examples: Kalvin, an Australian exchange student living in Germany, who bicycled around Europe without pre-booked accommodation, and Jean, a German student who took the land route to India! For those who don't know, Erasmus is a scholarship for university students coming to or from the EU on exchange programs.
absolutely free
Kalvin, an "Aussie", explains how between his two semesters at RheinAhrCampus in  Germany he managed to bicycle around  Europe for a month without any accommodation except CouchSurfing, in winter no less! He outlines why intercultural adventures and plans are incompatible with each other.
absolutely crazy
Jean is our new "Green Hero". He explains why on earth he traveled by land from Germany to India and how he had planned this 25-day trip, how many countries he crossed and what his friends and family thought.
absolutely environmental
Finally, Kalvin shares some rather dangerous encounters and explains how he made friends far from home. Perhaps he was the one who needed to be saved from the environment?
Although greenhouse gasses seem too big to comprehend, there are ways we can personally avoid them on our travels, and have more fun along the way. By taking the "greener" option, we find new opportunities to develop ourselves.
Kalvin is now safely back at RheinAhrCampus as the Chief Editor of this podcast, with the help of our new assistant editors Christopher, also from Australia, and Kofi, from Canada.
Thank you all who listened to the show. If you enjoyed, please like us on Facebook. By the way, did you know that we are also on iTunes? You can subscribe to us there for free and give us a rating and a comment. We would appreciate that!
Our next show is coming to you from Anne Fox in Denmark on 01 May, 2020.
Until then –
Bleiben Sie absolut interkulturell!
The host of this show is: Dr. Laurent Borgmann
Chief Editors: Kalvin Mitchell
Assistant Editors: Christopher Leedman and Kofi Prempeh
Download
Podcast-Feed
iTunes-Abo