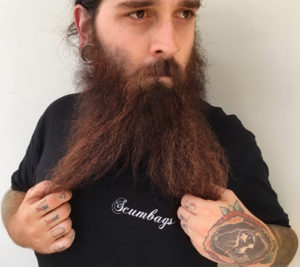 In this show, we are going to immerse you in the "culture of barber shops" which means you can expect to meet rough guys with motorcycles, full beards, dirty boots and, of course, a beer can in their hands.
First, we will listen to Tomi, perhaps the happiest barber in Australia, who shares his daily life as an employee in Scumbags Barbershop. Rashad, our exchange student from Azerbaijan is our second guest and will tell us his points of view about the barbershop culture.  And finally, we will go listen to Tomi again, and this time he will tell us about the Scumbags philosophy.
absolutely enjoyable
In our first category, "absolutely enjoyable" Tomi, the barber, will explain how this new culture of barbershops is more focused on giving an enjoyable experience to the customers than on observing political correctness.
absolutely unexpected
In the second category, "absolutely unexpected", our exchange student Rashad from Azerbaijan will share his reaction when he entered in a barbershop in Slovenia and saw only women working there.
absolutely scum
In our final category, "absolutely scum", we will come back to Tomi the barber and this time he will share how  the"Scumbags Barbershop" is offering to their clients the best service, which sometimes includes a "journey through time" back to the 1950's pin-up world as well as a geographical journey to sunny Hawaii with colorful shirts.
Thank you all who joined us for today's show. If you liked our show, please like us on Facebook, too. By the way, did you know that we are also on iTunes? You can subscribe to us there for free and give us a rating and a comment. We would appreciate that!
Our next show will also be coming to you from Laurent Borgmann in Germany on 2nd August 2019.
Until then –
Bleiben Sie absolut interkulturell!
The host of this show is: Dr. Laurent Borgmann
Editor: Mariane Castro
Download
Podcast-Feed
iTunes-Abo