If you like the podcast then please also LIKE US ON FACEBOOK!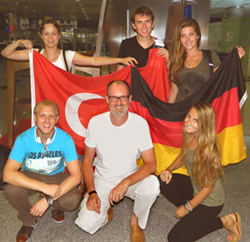 During the past months our international exchange students have experimented with "Citizen Journalism". They tried it out as a preparation for an intensive program in Izmir, Turkey. This seminar looked at journalism from different perspectives. One of the aims was to develop strategies for working efficiently in intercultural teams with students from several different European countries. In the end the students even created their own "intercultural newspaper" which was presented on the last day. Have you had the opportunity to work in an intercultural team yourself? Including absolute strangers from different cultural backgrounds? Do you think such intensive programs could be helpful for your future career? Improving your intercultural people skills?
absolutely diverse
Last semester, some of our international exchange students created an intercultural blog in order to try their hands at "citizen journalism"- as a preparation for a two weeks Erasmus Intensive Program in Izmir, Turkey. The seminar was about "journalism". Lecturers and students from five different countries meet in one university, learn and work in international groups and spend their free time together for two weeks. Both, teachers and students have the chance to develop internationally and improve their social skills by working in teams with people from different cultural backgrounds.
absolutely shocked
So the students tried out citizen journalism as a preparation for their joint seminar in Turkey. As a preparation the group produced short audio files which describe their intercultural experiences in a foreign country. They were quite shocked by some conventions in these countries.
absolutely Erasmus
You may be asking yourself how these international seminars can be financed in times where all universities are hit by severe budget cuts. You are right, such complex international projects can be quite expensive. 25 students and lecturers have to travel by airplane and trains to the partner university and once in the foreign country they need accommodation and food, too. The costs for this international experience could be an insurmountable problem for students. In order to lower that hurdle students who are interested in intercultural experiences are supported by funding programs like the European Erasmus Program, which covers a part of the costs. What is your opinion about subsidizing international student excursions with European taxpayer's money? Is this money really well spent? Matthew, Tehlia, and Lucy are going to give us some reasons why such study trips should be sponsored.
absolutely helpless
Even with the European funding, of course, the participants of the seminar in Turkey also needed to exchange money from Euros to Turkish Liras. In our last category "absolutely helpless" one lecturer shares how something simple like exchanging money can turn into an intercultural learning process, too. Reka, from Corvinus University in Budapest, Hungary, shares her trouble in a bank.
Would you like to share with us your own intercultural experience in foreign countries? If so, we would be delighted to hear both positive and negative experiences, so don´t hesitate and share your intercultural experiences with it with us on our Facebook Page.
Our next show will be coming to you on 6 September from Anne Fox in Denmark.
Until then –
Bleiben Sie absolut interkulturell!
And please visit our Facebook page.
The host of this show is: Dr. Laurent Borgmann
Editor: Younes Jaber
 Download
 Podcast-Feed