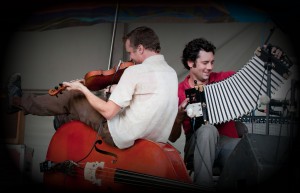 This show is rather special in many ways and may be a little longer than normal. As you may have guessed from the musical intro we'll be going to Louisiana to find out the link between culture, work and music; and the people we'll be meeting are father and son, Tommy and Louis Michot. I first met Tommy through my husband about 20 years ago. They are both biologists and when we went to Louisiana to visit Tommy's family, I discovered that Tommy is also a serious musician; serious in the sense that he and his brothers, Les Freres Michot, tour, and make albums. We also met up at several academic events in Europe where there would always be occasion for Tommy to get out his squeezebox and share the Cajun music of Louisiana which is sort of what you heard at the beginning of the show.
And then as often happens, we lost contact. Suddenly in mid-August, my husband got an email from Tommy saying that his sons, Louis and Andre, now have a band called the Lost Bayou Ramblers and that they were playing at a festival in southern Denmark. So down we went to Tønder, near the German border, to hear and meet up with Louis and Andre in the Lost Bayou Ramblers. While the rest of Denmark seemed to be having a sunny day, a terrific thunderstorm was competing with the musicians for our attention, and festival goers were walking around the site ankle deep in water, making the whole thing look a little like a Louisiana Bayou. Meeting Louis and Andre after their set I realised that the music, the environment and their father's career were all tightly interwoven and thought it might be interesting to unravel some of the pieces.
To set the scene you just need to know that the Cajuns of Louisiana were originally displaced people from France who came to Louisiana by way of Canada.
absolutely Cajun
We'll start with Louis Michot who started out playing in his father's band and has since gone on to form his own band with his brother Andre. The Lost Bayou Ramblers' musc is rooted in Cajun but with a contemporary twist. Here's Louis explaining what Cajun music is and how his band have updated it. That's followed by a preview of the new single, Bastille, by The Lost Bayou Ramblers out at the end of September and then we hear from Louis' father Tommy about where the word Cajun comes from.
absolutely interdisciplinary
Then I talked to Tommy about his work at the University of Louisiana and was amazed at how absolutely interdisciplinary his work is.
absolutely interconnected
Although Cajun music is rooted in tradition, I learned that Les Freres Michot also write new songs and that in one specific case the song arose out of one of Tommy Michot's academic tasks. Let's hear more about how work and play can be absolutely connected and then hear a snippet of the end result, La Valse de la Meche Perdue. You can try a short dictation from this segment at Listen and Write.
absolutely global
Finally we're going to go absolutely global and hear once again from Louis Michot, this time about the B side of the Lost Bayou Ramblers' new single Bastille which is also called Bastille and is a remix in a very different style. So we've gone from father to son, from work to play and from traditional to present day. One transition I haven't had time for is French to English but we'll take that in a later show so, finally, we're going to go from local to absolutely global!
Our next show will be coming to you from Dr. Laurent Borgmann in Germany on 30th September 2011
The host of this show is: Anne Fox
Editor: Markus Scherer
Photo credit: Cajunzydecophotos on Flickr