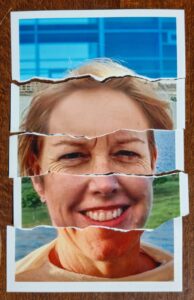 Hello and welcome to show 274 of our podcast "Absolutely Intercultural". Our topic for today is "Culture change". Cultures and people who live in them are interconnected and influence each other. For some people, it is easy to adapt to a new environment and accept the challenges of culture change. They see new experiences as an opportunity to learn and grow personally. Some people, however, are rather careful about exposing themselves to new cultures and as a result are less likely to be influenced or changed.
In this show, we try to figure out how cultures influence us, what impact they have on us, and how we can create better versions of ourselves by adapting to cultural changes.
absolutely direct
In our first category, "absolutely direct", Carlos speaks to Sandie, a guest lecturer from Australia who came to Germany to exchange teaching practices and learn new teaching approaches, which however may not be suitable for her own students back home.
absolutely influenced
In our second category, "absolutely influenced", Natalia talks to Shelbi, an Exchange Student from the United States who let herself dive completely into the new German culture and is soaking up new cultural influences.
absolutely alien
In our last category, "absolutely alien", Jan from Germany shares with Lars the story of how he moved from the countryside to the big city of Bonn, former capital of West Germany, and how he noticed that his own culture was different from the people around him in the street – and he felt like an outsider.
What about you? Have you ever experienced culture change? How did you deal with it and what impact did it have on you and your life? Maybe you are in the middle of adapting to the new environment right now? I am sure you are not alone, so please, feel free to share your story with us.
Please write a comment or mail us, we could do a follow-up interview with you in one of our next shows. On our web page, absolutely-intercultural.com, you can get more information about this show and previous episodes and you can leave comments. And if you enjoyed the show, please like us on Facebook too. 
By the way, did you know we are also on iTunes or Apple Podcasts? You can subscribe to us there for free and give us a rating and a comment.
Our next show will be coming to you on 3rd June.
Until then – allow yourself to dive into another culture and –
Bleiben Sie absolut interkulturell!
The host of this show is: Dr. Laurent Borgmann
Chief Editor: Natalia Obikhod
Assistant Editors: Carlos Fuch, Lars Felder, Shelbi Ankiewicz
Download
Podcast-Feed
Apple podcasts