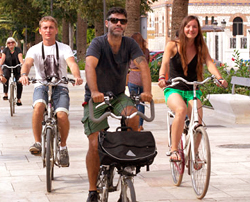 Isn't it great to experience new cultures by travelling to different parts of the world? Four weeks ago I spent my holiday in Andalucía, in Spain. I have wanted to go there for a long time: Granada, Cordoba, Sevilla – the place names have always sounded attractive to me.
On the first day my wife and I took part in a guided bicycle tour in Malaga – and by chance – we met Nils Langer. He told me that in the framework of his studies at the university he is completing a tourism internship in a Spanish bicycle shop
Quite a number of my students take on internships abroad in order to gain intercultural awareness and to improve their language- and transferable skills. They are culturally immersed in their host country much more than during a regular holiday. Working as an intern abroad provides them with insights into foreign work environments and working styles. Afterwards they benefit from the new international contacts they made during their internships abroad.
Continue reading "Absolutely Intercultural 183 +++ Internship Abroad +++ Intercultural Preparation +++ tourist-industry +++ First Impressions In Germany +++ Australian +++"