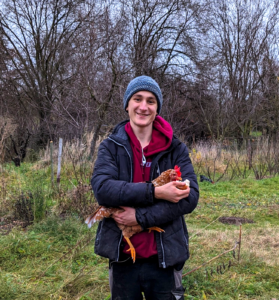 Hello dear listeners and welcome to show 284 of our podcast "Absolutely Intercultural". Today we explore the cultural dynamics between generations and their impact on our environment. What is the difference between the sustainability practices of our elders and the younger generations. Two different cultures "woke" vs. "wise"? This cultural distinction raises the question – can we connect the different cultures between the old and the young and combine the collective knowledge and experience to combat climate change? In this episode, we explore (and promote) the role of intergenerational knowledge exchange in creating a sustainable future. Join us as we dive into Grandparents' sustainability lessons for their eco-activist grandchildren.
absolutely inspired

In our first category, "absolutely inspired", we will listen to Mariam from Georgia who admires her grandma.  Mariam is not so proud of her own carbon footprint but she thinks that grandma is "the best environmentalist ever"!
absolutely vegetarian

In our second category "absolutely vegetarian", we will hear from Nils in Germany whose grandparents are rather worried that their grandson is a vegetarian and they are convinced that he is not nourished well without meat. 
absolutely aware

Finally, in our last category "absolutely aware", we listen to Anjana from India, where thinking or talking about sustainability has not been a high priority as it is for example in Germany. Paradoxically, her grandparents might not be aware of "sustainability" itself, but they do know how to ration and be mindful of natural resources in their home.
What about YOU? What did your grandparents teach you? Or what can you teach them? Maybe you have had an eye-opening experience on your own which raised your awareness for sustainability? Get in touch, and feel free to share your unique story with us here on this podcast.
Please write a comment or mail us, we could do a follow-up interview with you in one of our next shows. On our web page, www.absolutely-intercultural.com, you can get more information about this show and previous episodes and you can leave comments. And if you enjoyed the show, please like us on Facebook too. 
By the way, did you know we are also on iTunes or Apple Podcasts? You can subscribe to us there for free and give us a rating and a comment. 
Our next show will be coming to you on 7th of July!
Until then – learn from your grandma and make her learn from you as well!   – and Bleiben Sie absolut interkulturell! 
The host of this show is: Dr. Laurent Borgmann
Chief Editor: Natalia Obikhod
Assistant Editors: Teona Tepnadze, Sonam Tashi
Download
Podcast-Feed
Apple podcasts