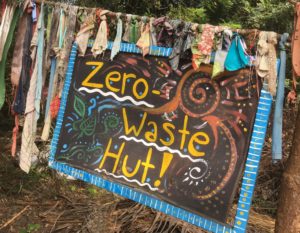 In this show, you will hear about Sadhana Forest. This is a nonprofit organization which was set up in the alternative international township, Auroville, in the South-East of India about two hours south of Chennai. You may remember that our show 231 was also about Auroville and if you have the time you may want to re-listen to that episode. The main activity of Sadhana Forest is to plant trees with the aim of re-creating the forest which used to be in that area.
At first, we will listen to Mike Roy, who is originally from the United States and is the Project Director in Sadhana Forest, in this show he explains why he made the decision to pack up and be a member of this community in India. Noel Parent, our guest in episode 231, tells us how the volunteers contribute by working in the Auroville community. And finally, we will go back to Mike Roy and this time he talks about how to get involved in Sadhana Forest project.
absolutely sustainable
in our first category "absolutely sustainable", Mike Roy, from Sadhana Forest talks about spiritual paths and explains that the idea is to live according to intention rather than convention.
absolutely open
In our second category "absolutely open" Noel Parent, who is an Aurovillian explains how we should all be learning by making mistakes. Noel was also our guest in episode 231.
absolutely easy
In our last category "absolutely easy", Mike Roy will share some ideas about how you can get involved in the Sadhana Forest project and do something for the environment.
Thank you all who joined us for today's show. Please check out our website at absolutely-intercultural.com. Here you can get more information about this and previous episodes. And if you liked our show, please like us on Facebook, too.
By the way, did you know that we are also on iTunes? You can subscribe to us there for free and give us a rating and a comment. We would appreciate that!
 Our next show will be coming to you from Anne Fox in Denmark on 3rd May
Until then –
Bleiben Sie absolut interkulturell!
The host of this show is: Dr. Laurent Borgmann
Editor: Mariane Castro
Assistant: Selsela Arya
Download
Podcast-Feed
iTunes-Abo