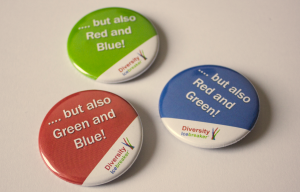 In today's show we will be going to the Hebrew University of Jerusalem in Israel twice, first with Mitch Weegman who was collaborating with leading edge researchers there for a two week research visit. We'll be hearing about how just walking through Jerusalem takes you on an intercultural journey and then we'll be hearing from Bjørn Zakarius Ekelund in Norway who was wondering if his team building tool, the Diversity Icebreaker, could help build bridges between Israelis and Palestinians.  And finally thanks to Svetlana Kurilova who contacted us through our Facebook page to tell us about her travels through Europe with a Spanish friend.
So you can contact us through our Facebook page like Svetlana did or through this blog where you can also leave comments. Thank you to Evelyn Sears in Australia who alerted us to a problem with the commenting. That is now fixed thanks to Thomas Jöckel of Toolstage in Germany. Thomas has also made our podcast accessible through mobile devices so you should now be able to hear us on any mobile device too.
It's nice to hear from old friends of the podcast and one such is Shai Reshef who started the University of the People where you can get a degree online with free tuition. Hear him in shows 94 and 134 where you can follow how his idea was born. Shai contacted us to tell us about the TED talk he gave in Vancouver recently so I will also embed the video on our Facebook page soon.
absolutely cutting edge
So on with the show where we talk first with Mitch Weegman, an American PhD student who went for a 2 week visit to the Hebrew University of Jerusalem.
absolutely icebreaking
Last May I was fortunate enough to meet Bjørn Ekelund, a Norwegian, who has developed a great tool that gets people working together, the Diversity Icebreaker. After a while, Bjørn began to wonder if the tool could be used, not just in business situations but also in conflict situations so that brings us back to Israel and the Hebrew University of Jerusalem once again.
absolutely together
And finally, it's great when we get to know our listeners a little better so I was very happy to talk with Svetlana Kurilova who caught up with us on our Facebook page to tell us about her travels across 12 European countries over the last 8 years with a Spanish friend. Let's hear more about the new perspectives you get when you are absolutely together:
So don't forget to keep liking us on Facebook or you can leave a comment on our blog here.
I'll leave you with this thought. Did you know that it is Intercultural Dialogue Day on September 25th Are you doing anything special for that day? If so let us know. Who knows, you may end up on a future show!
Comment on our Absolutely Intercultural Facebook page .
The next show will be coming to you from Germany with Laurent Borgmann on October 3rd so until then, stay tuned!
The host of this show is: Anne Fox
Download
Podcast-Feed