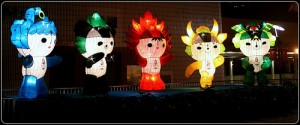 With the Olympics in full swing it seems obvious to turn our attention to China this time round. However if you think that we're going to be talking about heights, lengths, points, timings and goals then you've come to the wrong place. But maybe by now you have an idea what the intro music was. It didn't sound stereotypically Chinese but Forever Friends is the official anthem for the Beijing Olympics.
So what are the intercultural aspects of the Olympic Games? The list is long and could begin with the opening ceremony which was a lesson in world geography with the majority of the world's countries represented, even those currently in conflict such as Afghanistan and Georgia as well as many small nations such as Andorra and Cape Verde.  Be honest, how many flags did you recognize? I was also struck by the number of parading athletes using their mobile phones mostly to take pictures but also in conversation. The formality of the occasion has obviously been very much reduced. I can feel a theme for a future show coming on!
As the games swung into action inevitably another issue raised its head, that of cheating. What is cheating? I'm not referring here to using drugs to enhance performance but of the strange story of the Danish sailors. The weather conditions for the start of the race were very rough and the mast of the Danish boat broke. Instead of bowing out of the race, the Danes asked the Croatians, who were no longer competing, if they could borrow their boat. The Croatians said yes, the Danes set off late and incredibly went on to win the competition on aggregate and were in line for the gold medal. But it took 18 hours for the judges to decide whether the Danes had broken any rules by borrowing the Croatian boat. In the end the Danes were awarded the medal but other nations have put in official complaints. So was that cheating? Let us know what you think.
absolutely yours: 
Firstly hello to Zohre Ovezliyeva in Turkmenistan who administers the American Peace Corps programme there. I was so interested in Zohre's work that I arranged to link up with her for a future show so watch out for that.
Then we heard from Christopher Cummings who wanted to tell us about his Spanish language learning site at Spanishdict.com and who also told us that some of our pieces resonated with him as an Asian American. I hope that we can get Christopher to tell us more about his approach to language learning in a future show.
Hello also to Eddy Van Hemelrijck in Belgium who was interested in getting his students involved in producing some material for the podcast. Yes of course, we're very open to suggestions like that and I am very much looking forward to seeing what they come up with.
absolutely olympic:
Today we'll be hearing from Ken Carroll, a Dubliner who has lived in Shanghai for 15 years and who offers online language training through Chinese Pod, French Pod and Spanish Pod. What does he think is the significance of China hosting the games? Inevitably we started talking about learning the Chinese language too.
absolutely proud:
We'll also be hearing from Yaodong Chen, a professor of English at Guangxi University in Liuzhou and one of his students Justina, currently working as an intern, about whether they will be watching the games or not.
absolutely behind:
A recurring theme seems to be homework in China. This reminded me of an interesting initiative happening in the USA at the moment called 2 million minutes.  That is the amount of time available to the typical teenager to qualify themselves for university in high school. The project is making a series of films documenting how teenagers in India, China and the USA are spending their time during this critical period and it will be no surprise to learn that the Chinese students spend a great deal of time doing homework compared to the Americans. Although you need to buy the main film there are many short clips available for free on the project website and on You Tube. One of them features Bob Compton, the executive producer, giving his answer to a typical question about how students in China feel when they get low marks.
absolutely olympic (part 2):
What? More inter-cultural aspects of the Olympic Games? Well how about, is it about individuals and teams or about countries? I know many people are simply looking at the medal tally for each country but in the Olympic Charter it does explicitly say, and I quote:
'The Olympic Games are competitions between athletes in individual or team events and not between countries.'
Finally, isn't there a tension between the supposed coming together of nations and the inherent rivalry in sporting events? I heard one athlete interviewed who said 'I didn't come here to socialize with the other athletes!' and in fact there doesn't seem to be anything in the Olympic Charter compelling him to do so!
Well that's it for today. Thank you to everyone who took part, we couldn't do this without you!
So long! Stay tuned.
The host of this show is:Anne Fox
Editor: Peter Kron
The next show will be coming to you on September 5 from Dr. Laurent Borgmann in Germany.