Beirut – before and during the war.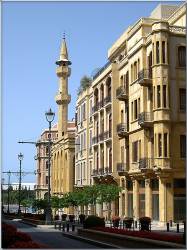 One week before the current crisis started, I went to Beirut, to visit colleagues at the St. Joseph University in the center of Beirut. For the last couple of years we have developed a Master course at the University in Intercultural Mediation, and in early July I recorded several interviews with Stefan Bazan, who over the years has become a good friend of mine.
We've talked about all sorts of things, for example how he came to Lebanon six years ago, how he met his wife or why there are two different currencies in the country. Well, in the current situation of course these subjects seem very trivial, but we've decided to follow those interviews up and compare them to the reality now. I interviewed Stefan on the phone on Friday, the 4th of August, to see what had changed since the war began and I left Beirut.
Stefan will happily provide you with up to date information about the current situation in Lebanon. You can get in touch with him by writing him an email or by leaving a comment on his blog.
Stefan's Emailaddress: stefan.bazan [@] usj.edu.lb
Stefan's blog in French
The war in Lebanon is unfortuantely not the only one in the world. There are many other conflicts and crises going on of which many of us only hear on the news. And don't we all judge the situation by the little information we get?
Well, the "Games for Change" movement provides all of us with a new way of getting a better understanding, for example the crisis in Darfur or the complex situation between Israel and Palestine. At the end of the show you'll hear a clip from the show 'Video Games for a Better World', produced by the "Here on Earth: Radio without borders" program at Wisconsin Public Radio in the United States."
The Host of this show is: Dr. Laurent Borgmann
Edited by: Berit Wiebe & Karsten Kneese